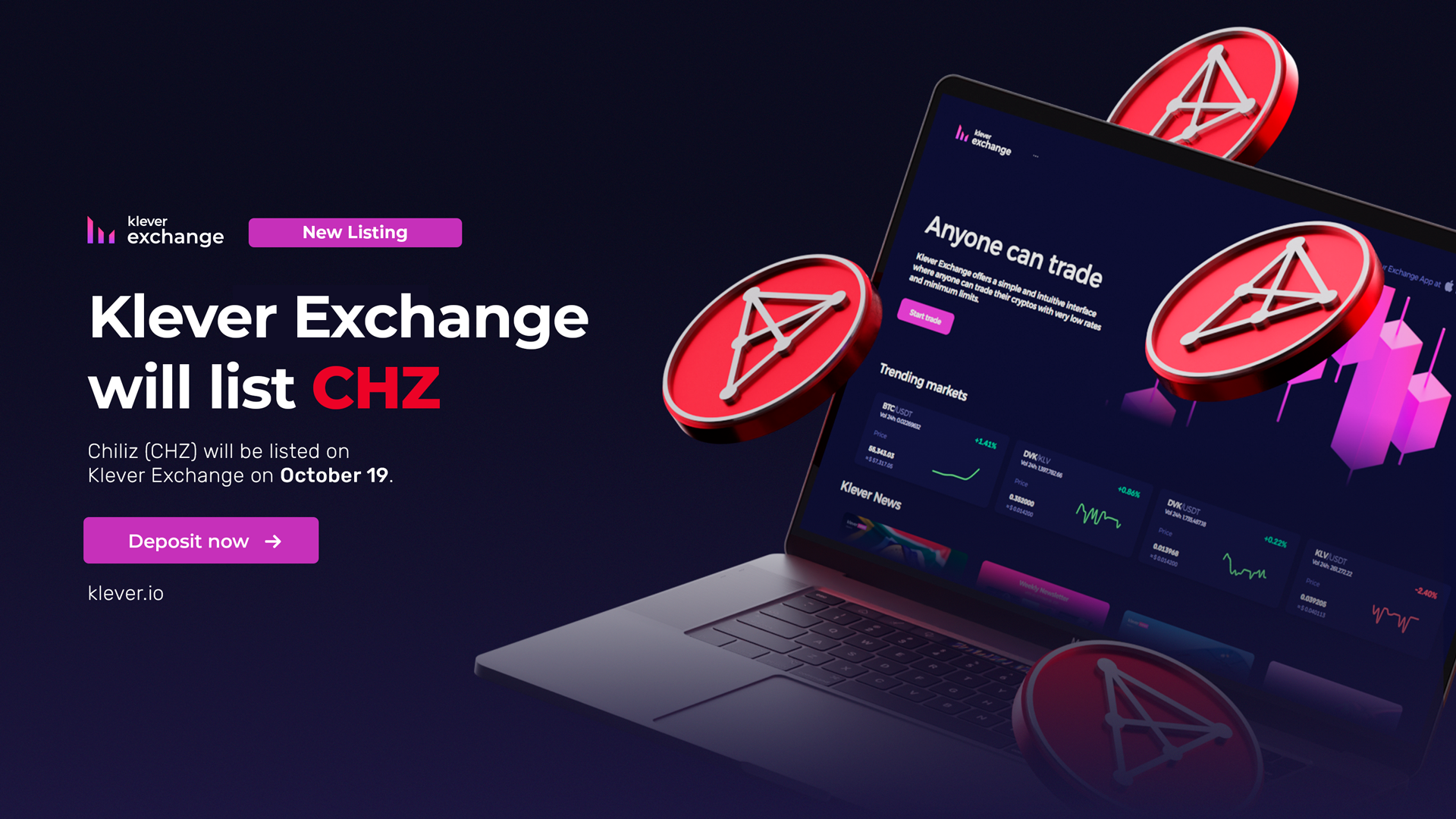 CHZ/USDT

CHZ/KLV

CHZ/BTC

CHZ/USDC
Trading pairs are open for deposit and withdrawals on Oct 14, 2021 at 14:00 (UTC) and Trading goes live on Klever Exchange on Oct 19, 2021 at 14:00 (UTC).
---
What is Chiliz (CHZ)?
Chiliz is a cryptocurrency that is exclusively used for sport and entertainment by a Malta-based FinTech firm. It operates Socios, a blockchain-based sports entertainment platform that allows users to participate in the governance of their favorite sports brands. Multiple fan tokens by Socios.com are an example of that. A tokenized fan experience offers a way of connecting with fans and unlocking revenue streams for sports clubs and associations.
Chiliz technology allows sports organizations to issue a limited number of fan tokens at an initial FTO (fan token offering). Chiliz discloses the opening price and fully diluted market cap of the tokens, and they are offered on a first-come, first-served basis. The native CHZ token is used to purchase fan tokens and is used as the platform's internal currency. With smart contracts, fans can vote on the Socios platform using their fan tokens. Clubs decide how much influence fans have. This includes everything from new jersey designs to determining team matches in exhibition games.
Thanks for your support!
Klever Exchange Team
---
Disclaimer
Risk warning: Cryptocurrency trading is subject to high market risk. Please make your trades cautiously. Klever will make best efforts to choose high-quality coins, but will not be responsible for your trading losses. The cryptocurrency market is available worldwide 24 x 7 for trading with no market close or open times. Please do your own risk assessment when deciding how to invest in cryptocurrency and blockchain technology. Klever Exchange is not liable for investment gains or losses.